Hotel
MyChoice is especially developed for hotels that want to use stand-alone TVs without having to buy a new system or do any other investments.
It allows hotels to sell 'Premium' TV channels to their guests and in addition generate extra revenue to cover the costs for initial TV investments and the high running costs for the TVs in the rooms.
MyChoice offers five different payment solutions:
Credit

  The Hotel reception desk provides a PIN code to the guest. The  
  Mychoice system is integrated into the PMS system of the hotel.
          
  Suitable for all hotels.

  Watch the MyChoice Credit video for more information.

Phone

The guest calls for access. The phone operator provides the guest
with a PIN code.

Suitable for all hotels

 

Online

     The guest can choose the MyChoice solution when paying
     online for Wifi.

     Suitable only for hotels with an online payment solution for Wifi.

 

Card

 Kiosk

The guest can buy a PIN code via the vendor machine in
the hall way.
Suitable for all hotels

Surprisingly simple!
No additional investments
No system required
You decide which TV channels will be locked

How does it work?
On installation premium TV channels can be locked. Viewing is only possible when entering a PIN code.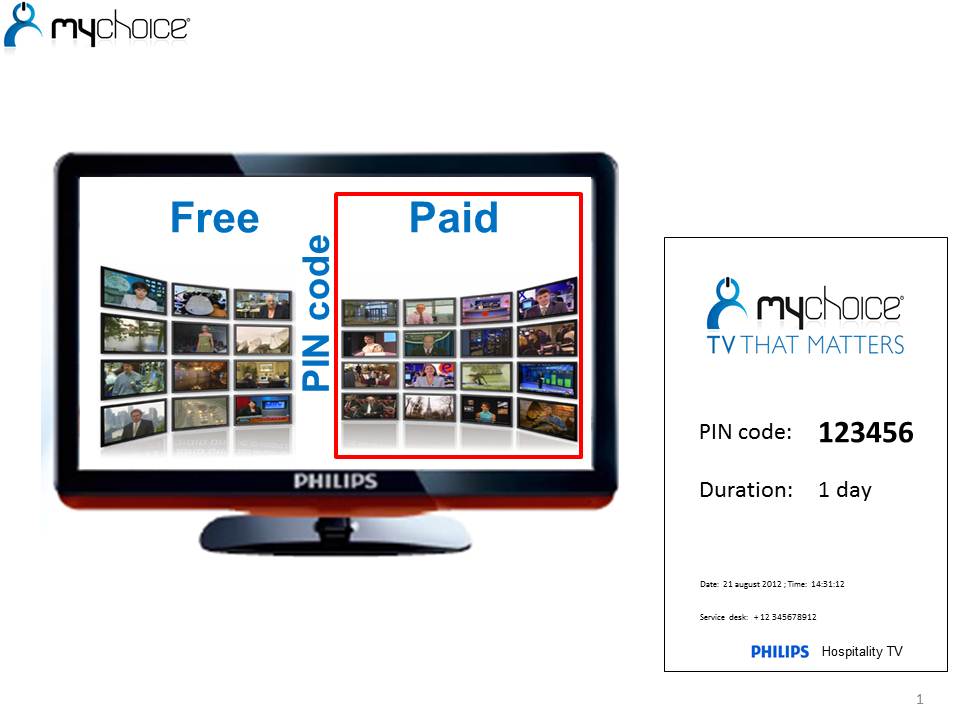 Interested? Please click here.