Hotel benefits
Below you can read the benefits of using MyChoice.
Increase your income per room
By selling 'Premium' TV channels you can generate extra revenue to cover you initial TV investments and the high running costs for TV in the rooms.
Guest comfort
Extra revenues allow for a subscription to more exciting international channels
1, 3, 7, 14* and 28* days access
* not applicable when using scratch cards
Differentiate
The extra revenues MyChoice generates allows for a subscription to a wider variety of (international) channels, e.g. sports, movie and music channels.
Save
Energy friendly LED TVs will save up to 1000 euro per hotel*/per year
See what you save and know that every TV, in every room, every year costs you less. 
Uses already existing infrastructure and channel line-up
* Hotels with app. 50 rooms
Trusted technology
Works in every hotel, hospital or holiday park using existing infrastructure and your existing channel line up.
Future proof (marketing) concept is driven by Philips
Code handling is controlled by Philips
Efficiency
Clones settings of other TVs, menu blocking, volume control, etc.
Many hotels are already using MyChoice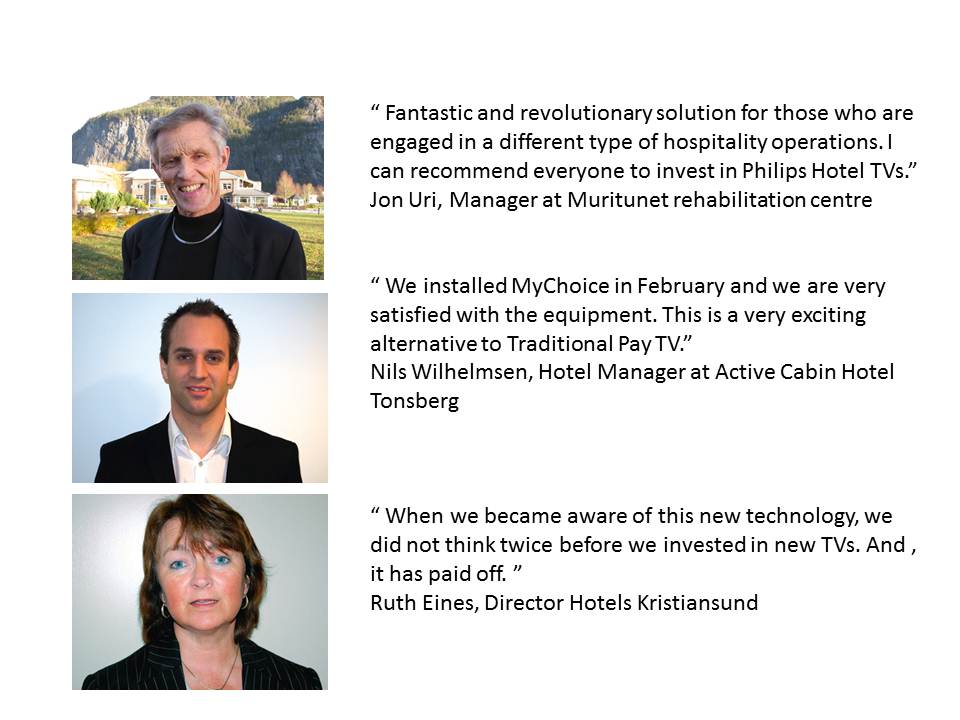 Interested? Please click here.